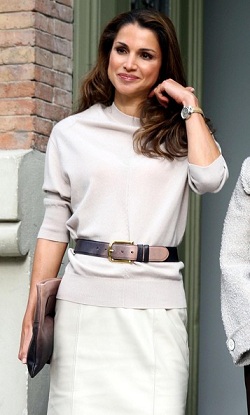 Throughout history, it seems that women have struggled hard to stand on equal footing with their male counterparts in positions of leadership and power. Queen Elizabeth I never married in order to protect her throne, Susan B. Anthony was arrested for voting in the 1872 Presidential Election, Elizabeth Blackwell fought hard against social pressure to become the first female doctor in America, and the great classic writer Jane Austen, did not even gain personal renown for her epic works of literature during her lifetime. Women like these worked hard to pave the way for those coming after them and while we are still struggling to close the gender gap in basic things like salary (on average, women make about 77 cents for every dollar men make for the same job) we have come a long way. So here is a round of applause for ten women of our time under the age of 60 who have redefined the "modern woman."
                                                                               Sincerely, Saba
Known to some as country royalty, Taylor Swift is an American singer, songwriter, and talented artist who reshaped the country-pop world. She has won four Grammy awards and in 2008 she became the best-selling musician of the year when her album sold over four million copies.
The controversial Queen of Pop has seen her fair share of scandalous headlines, but there's no doubt that her influence has been far reaching, especially with the younger generation. Made famous by her title tracks, "Baby One More Time" and "Oops…I Did It Again," that became international number 1 hits, Spears has sold over 100 million records internationally, to date.
From raising a family, maintaining a film career, to making time for humanitarian work, this woman can do it all. As an actress, Angelina Jolie has received three Golden Globe Awards, an Academy Award, and two Screen Actors Guild Awards. She has used her star status to bring attention to the plight of refugees around the world by becoming a Goodwill Ambassador, and has received the Global Humanitarian Action Award for her efforts.
#4: Marissa Ann Mayer (Age 36)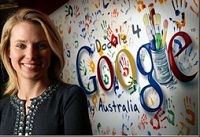 Marissa Mayer is Google's girl. As Vice President of Search Product and User Experience at Google, Mayer has spoken at numerous press interviews and has had a hand in the success of Google Search and Gmail. She was the first female engineer Google hired and among Google's first 20 employees.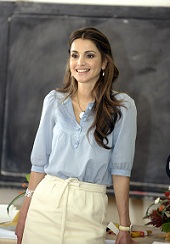 #5: Queen Rania Al-Abdullah (Age 40)
Queen Rania Al-Abdullah of Jordan has royal grace. She is a mother of four, a dedicated humanitarian, a strong advocate for children's education, and a recipient of the FIFA Presidential Award and James C. Morgan Global Humanitarian Award. She is popular as a royal for using social media, including Twitter and her YouTube Channel, to effectively reach out to others.
Sheryl Sandberg is a trailblazer for women. She is currently the Chief Operating Officer of Facebook. Before that, she was Vice President of Global Online Sales and Operations at Google and prior to that she served as Chief of Staff for the U.S. Treasury Department. She believes that women need to learn to take risks in order to close the "achievement gap" they face today.
Joanne Rowling brought an entire world to life when she put pen to paper and wrote the Harry Potter series. Forbes estimated her net worth to be around $1 billion dollars in March of 2011, and to date her books have sold over 400 million copies worldwide.
#8: Michelle Obama (Age 47)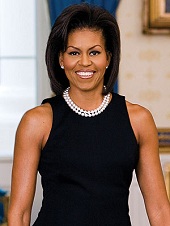 Michelle Obama is an inspirational woman. She is the first African-American First Lady of the U.S., a Harvard Law School grad, previous assistant to Mayor Daley of Chicago, and President Obama's vital support. She is well-known for her fashion sense, keen intelligence, and no-nonsense personality.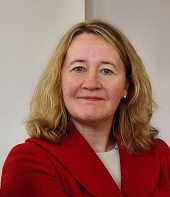 #9: Carol Greider (Age 50)
Carol Greider is a true pioneer for science. She is the molecular biologist responsible for discovering the enzyme telomerase and she is the forerunner in genetic research on telomeres. In 2009, she won the Nobel Prize for Physiology or Medicine.
Oprah Winfrey is definitely among the most inspirational and influential women in the world. Best known as the host of the talk show coined after her own name, Oprah became known for the "Oprah Effect," because of her ability to influence public opinion. She is well respected for fighting the obstacles in her life to get to where she is today. Oprah was the only black billionaire in the world for a time, is credited with popularizing a more intimate and conversational media style, and was the host of the highest-rated talk show in television history.
Check this out (scroll down for comments):