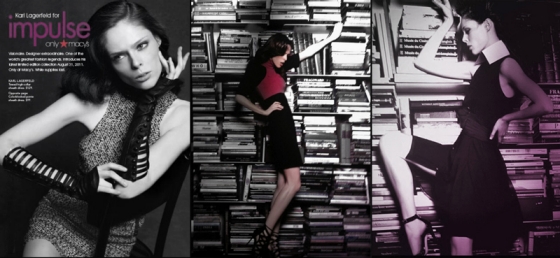 Karl Lagerfeld is a legend in the fashion world which makes the news that he's designing an exclusive line for Macy's very exciting. Even better is that the clothes will be at an affordable price point, ranging from $50 to $170. The clothing line is expected to debut at 235 stores on August 31st.
To me, Macy's is the perfect department store in the U.S. where everybody can find what they're looking for without ruining their budget – Karl Lagerfeld
The first ads and pictures of the collection have begun to appear around the net. The clothes feature a classic, high Lagerfeld neck as well as plenty of black and white pieces with a dash of feisty pink tops. Fashionista has a complete look. The first ads for the highly-anticipated Fall collection are also now on display with model Coco Rocha having received the honor to adorn the Fall pieces.
Check this out (scroll down for comments):