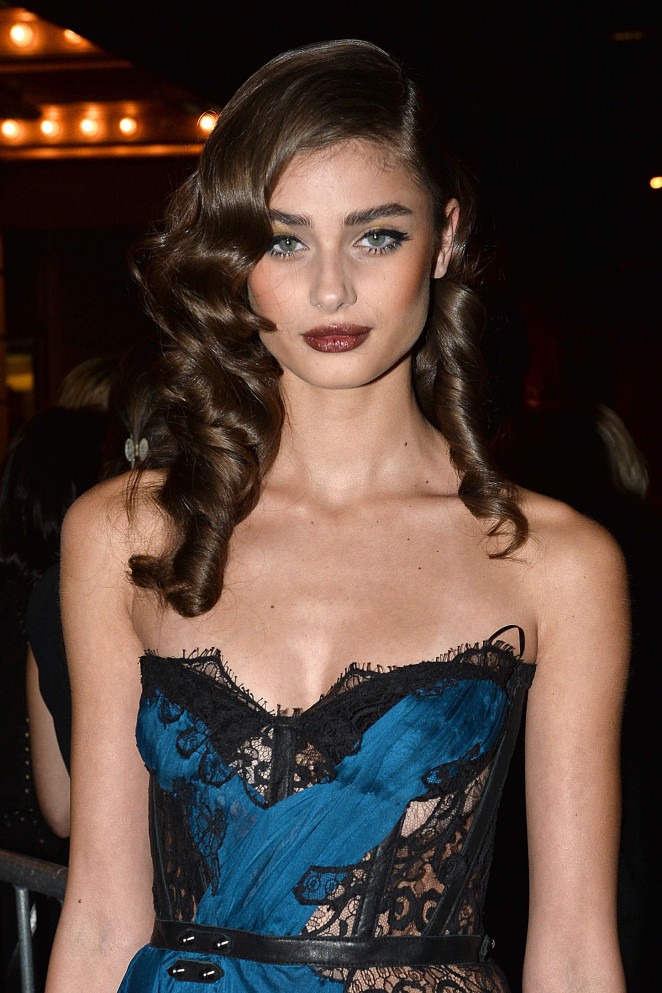 Taylor Hill is one of Victoria's Secret's newest faces. The gorgeous model was recently seen at the Harper's Bazaar ICONS Event and looked stunning in a beautiful blue dress. Her hair was styled in retro red carpet waves and her dark lip was reminiscent of Old Hollywood glam. Follow the easy steps below to recreate her makeup look for your next evening out.
Foundation:
Opt for a foundation with a lighter formula. Taylor's foundation does not look heavy. MAC Studio Face & Body foundation is a good route to go. A good drugstore option is the L'Oreal Lumi liquid foundation.
Eye Primer
Urban Decay Eyeshadow Primer Potion or NARS Smudge Proof Eyeshadow Base do the job well.
Apply an eyeshadow base all over the eyelid
MAC Paint Pot in Painterly provides a good neutral eyeshadow base.
Eyeshadow
One way to achieve Taylor's look is using the Urban Decay Naked Palette: apply the shade half-baked all over the lid, then apply the color virgin to the inner corner of the eye and on the brow bone, next apply toasted to the crease and blend well. Lightly apply the shade half-baked on the lower lash line as well. Finish off by applying the shade hustle to the outer v of the eye and make sure to blend all the colors well with a fluffy makeup brush.
Eyeliner
Any black liquid eyeliner will do. Make sure to wing out the liner at the ends (Maybelline Line Stiletto Ultimate Precision Liquid Eyeliner is a good option).
Fill in eyebrows
Taylor Hill is a known for her full brows so make sure to fill yours in to achieve her look. Anastasia Beverly Hills Brow Kit can help you do the job.
Blush
A cream blush would make it easier to achieve her flushed, dewy glow. Try Revlon Photo Ready Cream Blush in the color coral reef.
Highlighter
Highlight your cheekbones wit MAC Mineralize Skinfinish in soft & gentle.
Bold Lips
Apply a neutral lip liner and use it to fill your lips in a bit to help the color last. Apply a deep warm brick shade such as L'Oreal Colour Riche lipstick in Raisin Rapture.
Check this out (scroll down for comments):