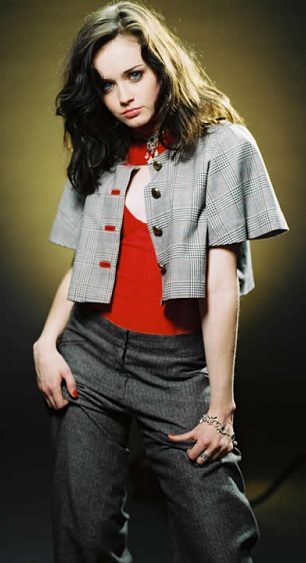 I love jackets, and fall is the perfect season for them. The right jacket can give any woman a chic and put-together look. Forget the stiff and formal suit jackets you wear to work and look to some more casual options. Whether your purpose is to cover up or make an outfit more interesting, follow our guide on jacket styles to figure out how to achieve the look you want. Let us know what your favorite look is!!
Sincerely, Saba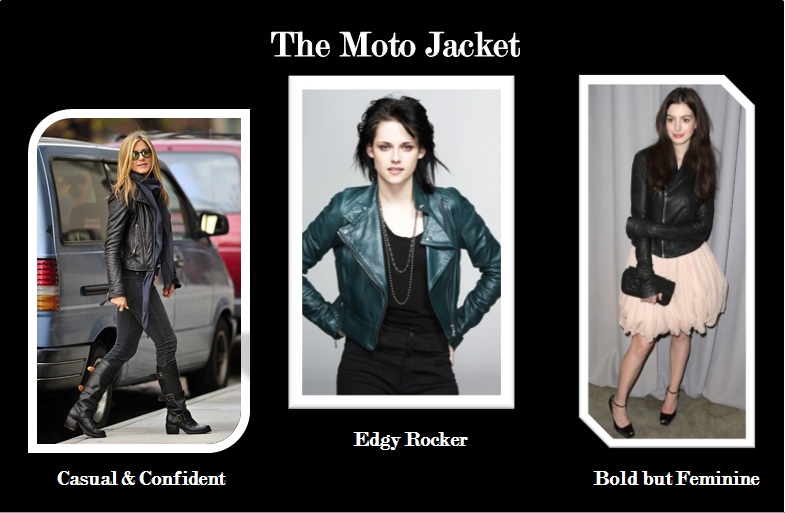 #1: The moto jacket or motorcycle jacket is typically made of leather and usually features a diagonal zip for an asymmetrical line. Some ways to wear it include Jennifer Aniston's casual and everyday look with skinny jeans and boots, Kristen Stewart's rocker girl style, or throw it over a skirt or dress like Anne Hathaway to give a tough edge to your feminine ensemble.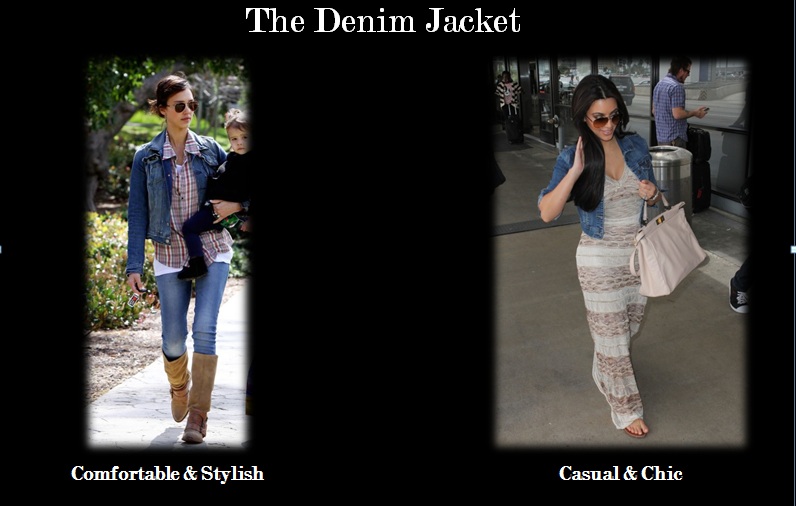 #2: The denim jacket  is a classic piece that is both functional and fashionable. Denim jackets typically have a straighter, boxier fit and end at the hip. Go for Jessica Alba's girl-next-door look by pairing the jacket with skinny jeans and boots or try Kim Kardashian's fun and flirty look by wearing it over a maxi dress.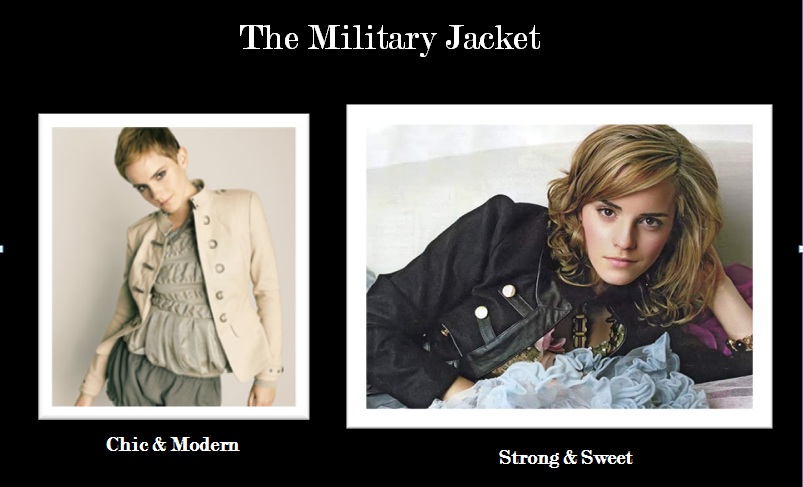 #3: The military jacket is chic and in style. Its unique look is versatile and can be worn with just about anything. Emma Watson shows off two different ways to wear this jacket. Pair it with a simple top and pants for a more chic, everyday look or go for a romantic look by wearing it over a soft, flouncy dress.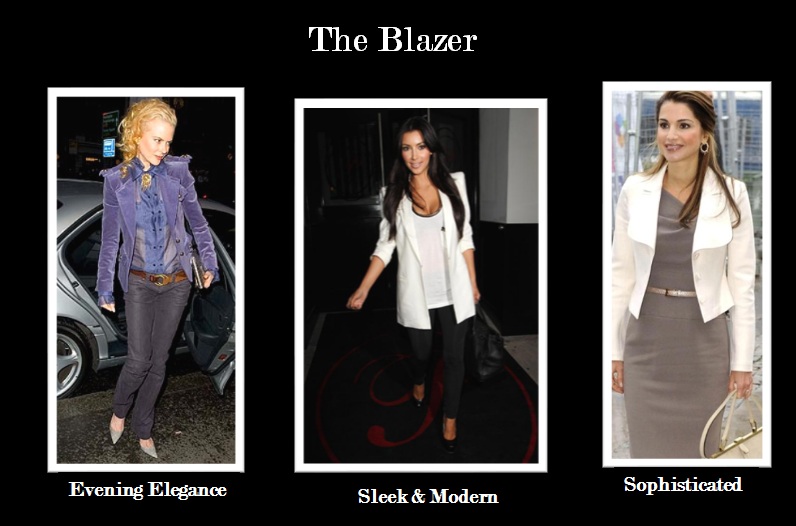 #4: The blazer is another classic piece that belongs in every woman's wardrobe. It comes in different styles and we have shared 3 of them here. Go for an elegant look like Nicole Kidman by wearing a blazer in a rich fabric like velvet. Worn with dark wash jeans, it instantly adds evening charm to a simple outfit. Kim Kardashian's longer, one-button blazer looks chic while providing a body slimming line. The three-button blazer is usually shorter and has more boxy lines. Wear it over a sleek dress like Queen Rania to achieve a classy and sophisticated look.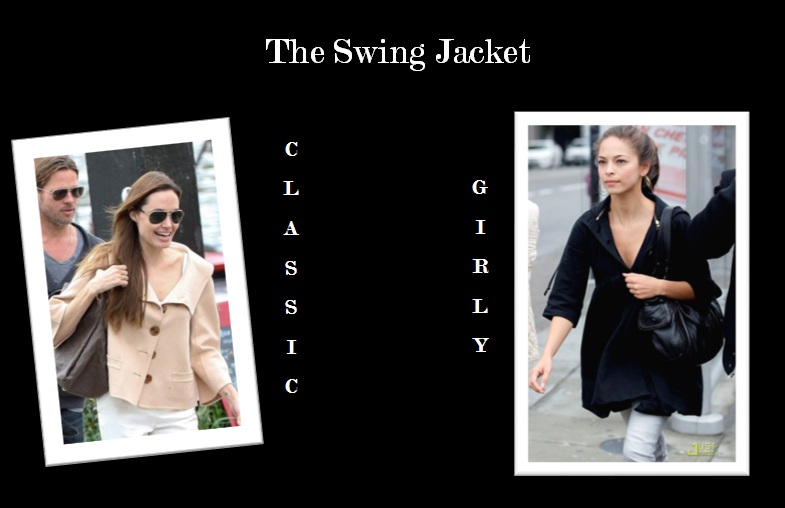 #5: The swing jacket usually features 3/4 sleeves and has a gently flared line. Angelina Jolie is wearing a more classic style paired with white slim fit pants for a chic look. Kristin Kreuk is wearing a more casual style with skinny jeans for a look that is both girly and understated.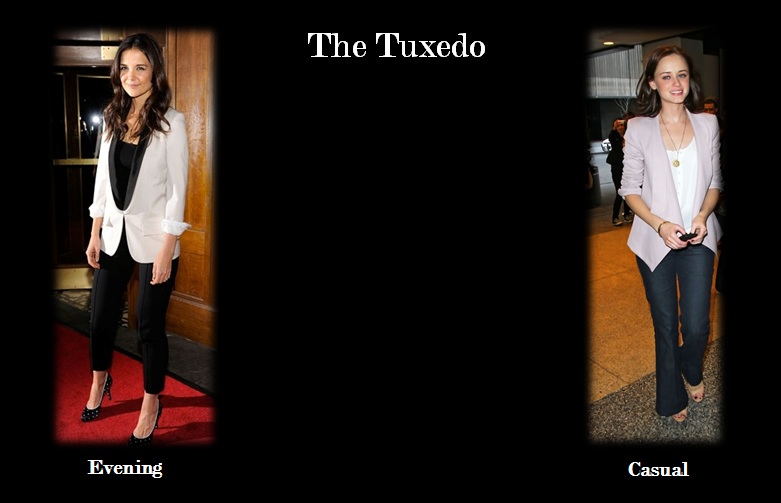 #6: The tuxedo jacket has been in fashion for years, but this year it is making a fresh debut in new styles. Even though a tuxedo is traditionally thought of as a more masculine piece, it has been successfully recast in softer, more feminine styles for some time.  Go for a sophisticated, red carpet look like Katie Holmes by sticking to black & white. For a more casual look, try Alexis Bledel's effortlessly glamorous combination by wearing a tuxedo jacket in a soft color, like pale pink, and pairing it with dark jeans and a simple shirt.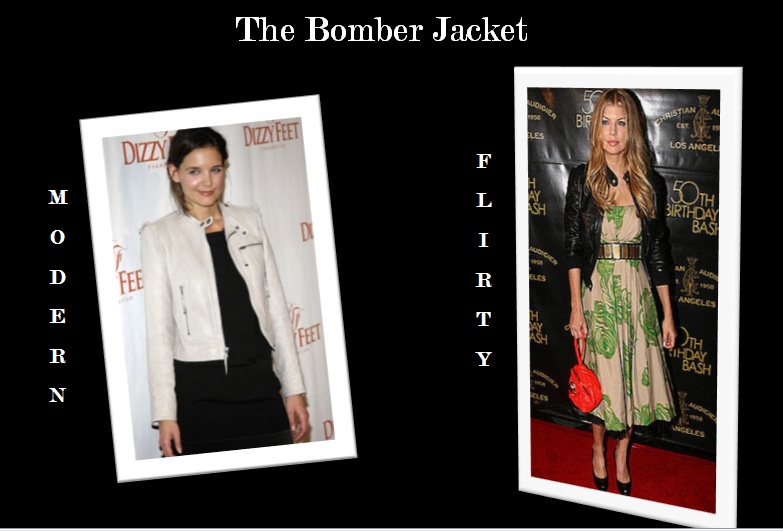 #7: The bomber jacket is another jacket that is usually made of leather. Inspired by fighter pilots, the cut of the bomber jacket can accentuate the waist when bought in the correct size. Let Katie Holmes be your inspiration for a cool, modern look by wearing a sleek white jacket over a black outfit. If you a want a more feminine look, let Fergie be your guide and layer the jacket over a bold print dress.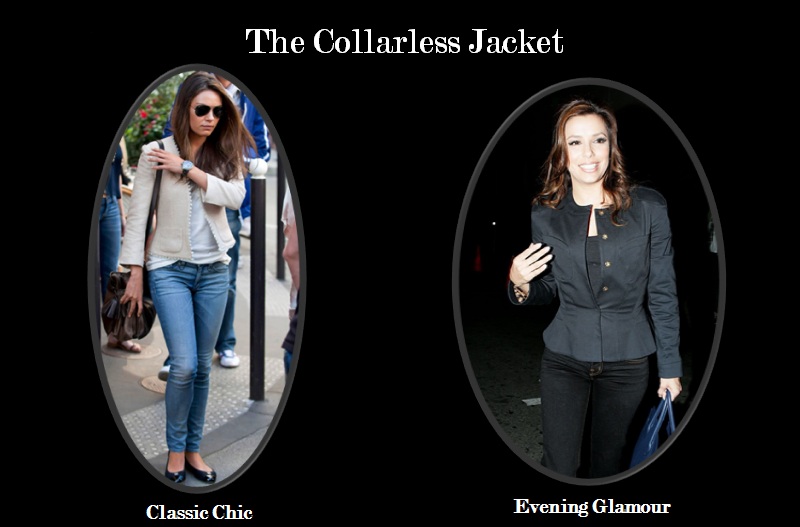 #8: The collarless jacket helps achieve a more minimalist look with clean lines. It also helps keep petite frames from being overwhelmed. Try a classic look like Mila Kunis by wearing a collarless jacket in tweed and pairing it with ballet flats. For a night out with friends, try Eva Longoria's look with a collarless jacket in a more casual fabric paired with dark wash jeans and patent leather pumps.
Sincerely,
Chic
Check this out (scroll down for comments):